Medishield (MS) or Private Integrated Shield Plans (ISP)
Hospitalisation plans should be your primary and foremost consideration in your financial planning management. Basically there are only two categories of shield plans in the market today – (1) Medishield by CPF Board and (2) Private Integrated Shield Plans by private insurers.  The key differences between MS and ISP are as follows:
1.   Claims.   There are sub-limit claims imposed under MS while ISP provides as-charged claims for most the treatments and surgeries. The annual policy claim for ISP is also much higher (about 2-4 times) compared to MS. Both MS and ISP are subjected to deductibles and co-insurance but a rider can be purchased to offset the deductibles and co-insurance for ISP.
2.   Coverage.   MS only covers restructured hospital B2 ward and below while ISP covers all ward types in restructured hospital and standard ward in private hospital as well as as-charged pre and post-hospitalisation bills depending on the plan purchased.
3.   Riders.   There is no rider option under MS. Rider under ISP which can only be purchased in cash can help to offset the deductibles and co-insurance. There are also other additional benefits provided under ISP rider which you should get your financial consultant to explain when making your purchase.
The key consideration choosing between MS or ISP is budget. I will strongly encourage that everyone purchase an ISP if you can afford the premiums as with growing healthcare costs, you may still find yourself paying huge hospitalisation bills for just being covered under MS.
** Do note that Medishield Life will replace Medishield at the end of 2015 and there will be changes in the features and benefits. You can find out more on Medishield Life in the meantime at the following website: (https://www.moh.gov.sg/content/moh_web/medishield-life.html)
Private Integrated Shield Plans (ISP)
ISP is currently offered by five insurers namely: (1) Prudential, (2) Great Eastern, (3) AIA, (4) Aviva, and (5) NTUC.  Given the number of choices available, it is natural to compare to get the best deal. You can check the following website by MOH which gives a good comparison of the features and premiums between the ISPs offered by the five insurers.
(https://www.moh.gov.sg/content/moh_web/home/costs_and_financing/schemes_subsidies/Medishield/Disclaimer.html)
Personally, I feel all the ISPs are quite competitive in their pricing with varying benefits. I have listed some key considerations which you should look out for when purchasing an ISP.
1.   Premiums.   I believe this will be the first thing most people ask when purchasing an ISP. I did a computation of the total premiums to be paid till age 85 between the different insurers which you can find in the table below (click to enlarge).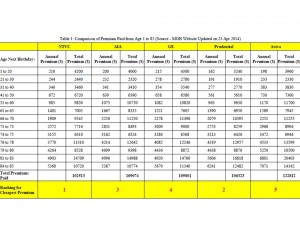 It is important to note that premiums for ISP are not fixed and insurers can raise the premiums at any point in time so long as they give advance notice to their clients. Another important point to note is that you will have to fork out some cash to pay for ISP on top of the cash for rider once you hit age 50 (annual premium will exceed Medisave withdrawal limit), and premiums will also get increasingly more expensive after age 60, hence do look at longer term premium affordability before deciding on an ISP. While affordability is an important consideration, it does not mean that the cheapest plan is the best, rather you should look at the different benefits offered to decide which is most suitable for you. There may also be different promotions and deals offered at certain periods.
2.   Hospital and Ward Type.   You will have to decide if you are those who want to seek treatment in a private hospital or if you are fine going to a restructured hospital and the types of ward you will be comfortable to stay in during hospitalisation. This is very much a personal preference but if you can afford the long term premiums, I will strongly suggest you to take up the most comprehensive plan. I have a friend who took up a restructured hospital plan but had to seek treatment in a private hospital and ended up with a huge hospitalisation bill. Furthermore, you can downgrade your plans easily in future but to upgrade will come with underwriting. Having a comprehensive ISP will give you a peace of mind that your entire hospitalisation bill will be taken care off.
3.   Claims Return Rate.   Another popular question that most people will have in mind is how fast their bills can be reimbursed. MOH publish the claims return rate in their website every quarterly. The table below shows the latest statistic for last quarter of 2014 (1 Oct to 31 Dec).
 
Cumulative Claims Return Rate
Median Claims Return Rate (days)
<= 1 week
<= 2 weeks
<= 4 weeks
AIA
92%
95%
96%
0 (Same Day)
AVIVA
84%
89%
94%
0 (Same Day)
Great Eastern
93%
95%
97%
0 (Same Day)
NTUC Income
93%
96%
97%
0 (Same Day)
Prudential
94%
96%
98%
0 (Same Day)
(source -https://www.moh.gov.sg/content/moh_web/home/costs_and_financing/schemes_subsidies/Medishield/Medisave-approved_Insurance.html)
4.   Period for Pre and Post Hospitalisation.   This is a personal factor that I will look out for in an ISP due to my previous experience where I was unable to claim for my post hospitalisation treatment as my appointment was beyond the 100 days under my current ISP. Given the long waiting time for post hospitalisation appointments these days, I feel that insurers should extend the pre and post hospitalisation period. There is currently ISP which allows up to 180 days of pre and post hospitalisation claims.
5.   Servicing Consultant.   Personally I feel this is the most important consideration, to get a financial consultant whom you are confident is able to be there for you in the event you are hospitalised. Imagine a situation where you are hospitalised and still have to worry about what benefits you are entitled to and how to make your claims. A good consultant should be there for you to take care of all these administrative matters while you solely focus on your treatment and recovery. This I feel is priceless. I came across the article below some time back and it is the perfect example of why you need to have a personal consultant to help you manage all the issues so that you can just focus on your treatment. Hence, do look for a good consultant on top of an ISP that meets your requirements.
(http://www.straitstimes.com/premium/forum-letters/story/caught-between-insurer-and-hospital-20150105)
I have listed some key factors that you should look out for when purchasing an ISP which i hope you will find useful. However they are not exhaustive and you should still look for a financial consultant for further discussion to understand the features and benefits. If you are intending to switch between insurers, do remember to ask your consultant on the waiting period for certain conditions.