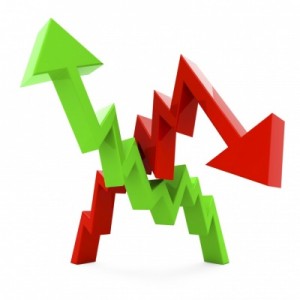 Currently the interest rate for CPF OA is 2.5% p.a. and Special, Medisave and Retirement Accounts (SMRA) is 4% p.a. with an additional 1% paid on the first $60,000 of a member's combined balances (with up to $20,000 from the OA). Refer to my earlier post (http://www.ngaikboon.com/do-you-know-01-earn-up-to-5-interest-on-your-cpf/)
However, do you know that these interest rates are not guaranteed and we will likely see more fluctuations in the rates after 2015 especially for SMA!
Ordinary Account

.  Monies in the OA currently earn the legislated minimum 2.5%, or the 3-month average of major local banks' (UOB, DBS and OCBC) interest rates, whichever is higher. I think it is highly unlikely in the near future that the 3-month average interest rate of the 3 local banks will exceed 2.5%, hence we can be quite confident that the OA interest rate will continue to stay at 2.5% for the foreseeable future.

Special and Medisave Account

. Now if you are thinking that SMA will continue to earn 4% interest rate, it's time to think twice! The current 4% floor rate is guaranteed by the Government only till Dec 2015. The interest rate for SMA is actually pegged to the 12-month average yield of 10-year Singapore Government Securities (10YSGS) plus 1%. This will take effect from 1 Jan 2016 if the Government does not extend the floor rate of 4% any further! The current yield ranges from 1.6% to 2.6%, so we may not be getting the 4% interest rate on SMA any much longer! However, 3%+ is still not too bad a rate I feel since it is essentially risk free.

Retirement Account

.  The current floor rate for RA now is also fixed at 4% p.a. RA monies will be invested in Special Government Securities (SSGS) which will earn a fixed coupon rate equal to the 12-month average yield of the 10YSGS plus 1% at the first point of issuance in the year from 1 January 2010. The average yield of the 10YSGS plus 1% from November 2013 to October 2014 is 3.40% p.a. Need I explain further?
Hopefully you are not lost by now! A simple takeaway from this is that the days of 4% interest rate are numbered and we should brace ourselves for lower interest rates for our SMRA come 2016 unless the Government extends the floor rate further. Perhaps a positive note from this is that we could also potentially get more than 4% if the yield rates of 10YSGS are good! Let's wait to see how this will pan out soon.
Source:
1. http://mycpf.cpf.gov.sg/CPF/News/News-Release/N_17Feb2015.htm